1" 8.75 oz T64 Fiberglass Tape Silane 627 Finish
Fiberglass Tape > 1" width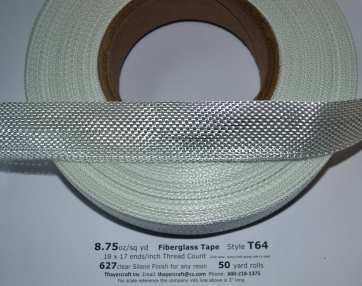 1"
wide Fiberglass Tape
8.75
oz/sq yd Style
T64
Finished with silane
627
for any resin
All fiberglass tape rolls are
50
yards each
The T64 fiberglass tape is an 8.75 oz/sq yd plain weave fiberglass tape. Style T64 is available in 1" width and finished in the clear universal silane 627. All rolls are 50 yards each. You have your choice of 1, 2, 3, 4 or 5 rolls. This is top quality U.S. made woven fiberglass tape. Prices are with Free shipping to the continental United States.