2.47 oz/sq yd Silane Finished Style 2313
TIGHT WEAVES
Dirt Cheap
2.47
osy
Fibergla
s
s
Cloth
*
50
yards
$79.23
BUY NOW
Free shipping
38, 42, 44, 50 and 56"
widths
Style
2313,
2.47
oz/sq yd (osy) Fiberglass Cloth with
Silane finishes
for Epoxy Resins
rolled on 2" Diamer PVC pipe
Shipping has got so high and not having an accurate shipping calculator
we are no longer able to sell any rolls with free shipping.
Email us to
thayercraft@cs.com the roll you want 1-Style, 2-width, 3-finish, 4 yards
and we'll quote you the actual shipping cost
and if you still
want the
roll we'll send a PayPal request.
If you have any problems
enter the individual letters of the email address
thayercraft@cs.com. This email is monitored 24/7.
***Note: Silane finished rolls may have a white polyester fabric to prevent the
corrugated wrap from putting ridges
in the fiberglass cloth.
The fiberglass cloth
will be past this layer.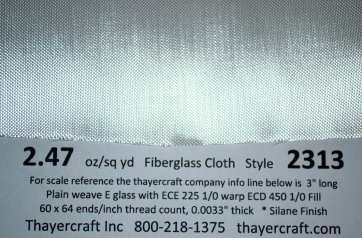 Style 2313 is a 2.47 oz/sq yd plain tight weave E-glass fiberglass fabric with a high thread count of 60x64 ends/inch compared to the 24x22 for 1522, which is heavier of course, but even allowing for that.
Style 2313 is finished in a silane for epoxy resins. Though 2313 is not a standard open weave surfboard type fiberglass cloth we have had quite a few surfboard and stand up paddle board builders to use it. You, as the surfboard builder, know much more about what you can or can't use than I can even imagine. It seems like too tight of a weave for surfboards to me. But any group of people that were smart enough to help NASA solve some of the early rocket designs are smart enough to use cloth not meant for surfboards. I have to say thank you and keep up the good work. But if you do want to try some here's your chance. You have a big variety of widths and yards to pick from here with Free shipping.
All cloth is rolled on 2" PVC pipe and carefully packed. All prices are per roll with free shipping to the 48 continental United States.